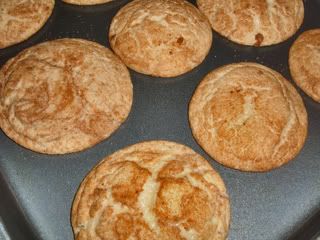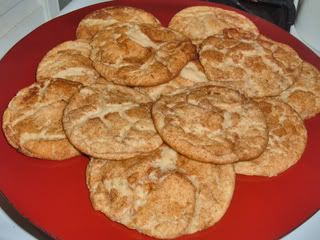 This is the BEST snickerdoodle recipe ever. I can't stand sugar cookies that have that bitter aftertaste of terror. These are fluffy and delicious! NO BAD AFTERTASTE.
1 c. shortening (butter flavor or regular)
1 1/2 c. sugar
2 eggs
2 3/4 c. flour
2 tsp. cream of tartar
2 tsp. soda
1/4 tsp. salt
1 tsp. vanilla extract* optional (also good: almond extract! LOVE YOUR EXTRACTS, PEOPLE. IT'S HOW WE MAKE OUR OWN SPECIAL RECIPES!)
Place in a small bowl and set aside:
1 T. cinnamon
4 T. sugar
In a mixing bowl, cream your shortening. That means, mix with an electric mixer until fluffy. Continue creaming and add sugar, add eggs, one at a time until well incorporated. Add vanilla* and fold into mixture.
Sift your dry ingredients together and slowly add to the wet ingredients with a wire whisk. Do not use the electric mixer here! Over mixing is what makes a tough cookie. Good in quotes, not in the mouth.
With a large tablespoon, scoop out dough and roll into a smooth ball. Roll into the sugar/cinnamon mix and place on an ungreased cookie sheet. Bake at 375 for 8-10 minutes.
Tags: baking, cookies, dessert, easy, with photo