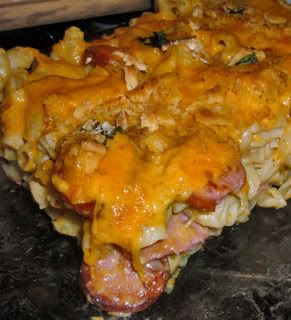 16 oz Large Elbow Macaroni
1 pkg Skinless Polska Kielbasa Sausage, sliced thin
2 T. Olive Oil
4 - 4 1/2 c. Shredded Cheddar Cheese (Or 1 lb)
1 can Cream of Chicken Soup
1/4 c. Heavy Cream
1/3 c. Brown Mustard
1 tsp. Dill
1/3 c. Roughly Chopped Basil Leaves (about a handful before chopping)
1/2 tsp. Garlic Salt
1 tsp. Good Black Pepper
1/2 pkg. Saltine Crackers
1. Start your macaroni noodles according to manufacturer's directions in a large pot. While the water is boiling, put olive oil in a large skillet on medium heat. Add sausage and cook until edges are browned. Drain sausage on paper towels and set aside.
2. Preheat oven to 350.
3. Drain noodles when cooked, and immediately put back into the pot. Do not rinse the noodles! Starch is your friend! Add the cream of chicken, heavy cream, cooked sausage, spices, herbs and mustard, and only one cup of the grated cheese. Mix well.
4. Place saltine crackers in a ziplock bag and crush into crumbs. I like to put a pinch of pepper in with the crackers before hand, but that's up to you. I like every bite to taste good!
5. Pour casserole mix into a large casserole dish and cover with the remaining cheese and top with the cracker crumbs. Bake for 20-30 minutes, or until bubbly and browned. Another trick if you like a crispy crust:
6. Cover dish with aluminum foil and bake for 15 minutes. Remove foil and bake for another 5-7 minutes under your broiler on medium heat. Delicious!
Tags: casserole, cheese, dinner, low-budget, pasta, sausage, with photo