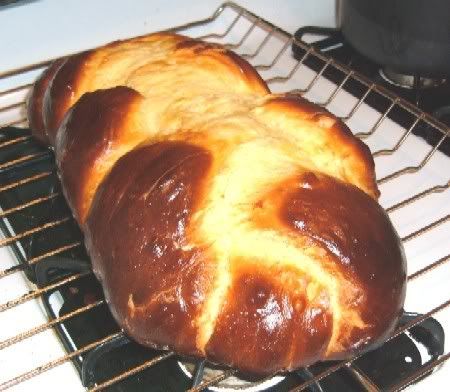 This recipe is slightly altered from an online recipe site. I think I got it from allrecipes.com
2 packages Active Dry Yeast (1/4 oz each packet)
2/3 c warm water
2 tsp sugar
6 egg yolks
3 eggs room temperature
1/2 c vegetable or canola oil
1/2 c sugar
2 tbsp honey* optional
4 1/2 c all purpose flour
1 egg
1 pinch salt
1. Dissolve yeast in 2/3 c warm water along with 2 tsp sugar. Whisk until foamy and dissolved and let proof for 10 minutes. If doubled in size, the yeast is active. Add 6 egg yolks, 3 whole eggs, oil, sugar, honey* and 3 1/2 cups of flour. Mix well until sticky dough is formed. I added a bit more flour, as this is really sticky. Just add a little at a time until sticky yet kneadable.
2. Turn out dough on a heavily floured surface. Knead well for 7 minutes until dough is elastic. Place in a well oiled bowl and turn dough over to coat all of it with the oil. Cover with a damp cloth and set in a warm place for about an hour, or until dough has doubled in size. (It took mine about an hour and 20 minutes). Do not rush the rising process!
3. Punch down dough (with a floured hand, this bitch is sticky) and put on a floured surface. Cut into 3 equal pieces and roll each piece into 12" logs (like making French bread). Braid pieces together and seal the ends. Place on a greased cookie sheet. (Be sure to grease the edges of the cookie sheet, as this bread will take up the entire sheet when done). Beat remaining one egg with a pinch of salt and brush half of the egg onto the bread, covering it well. Let it rise again. It will take about 35-40 minutes to rise a second time, and DO NOT RUSH IT.
4. Preheat oven to 350 degrees (recipe called for 375 but it will burn at this temperature. 350 is perfect for Texas weather.) BRUSH WITH REMAINING EGG AGAIN.
5. Cover bread with tin foil and bake for 15 minutes. Remove foil. Continue cooking for another 10 minutes or longer, depending on your oven. In total, it only took 20 minutes for my bread to be done, but I forgot to cover it with foil, so it browned quicker than it should have.
6. Remove and let cool on a wire wrack.
This can recipe can be halved and put into two bread loaf pans, or made into the best damn rolls you've ever eaten. This is a very light, fluffy bread and is FANTASTIC as French Toast the next day. Enjoy!
Tags: baking, bread, eggs, with photo